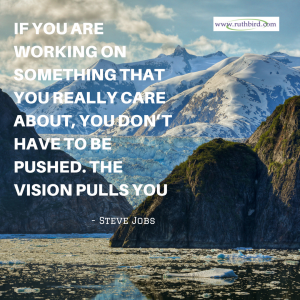 Do you have clarity & vision.  Are you clear with what it is you want in your life, from your business?
Do you know what the vision of your team is?
I am so put off by the promotions of fancy mansions, fancy cars, fancy vacations, owning your own plane (LIKE REALLY??)
I am pretty sure that 90% of your team are NOT looking for any of these rewards.  90% of your team would have zero interest in the above!
So what Are They Interested In?
I'm pretty these are many of their wishes…
Spending more quality time with their kids. That needs a family car, gas, insurance, so you can take them to the zoo, the park, the play ground.

Having a decent home for their family.

Education for their kids.

At the very least, being able to pay the bills when they come due.

Making sure that their parents have everything they need, and maybe, even something extra, something special.

Maybe even taking their family & parents on a vaacation.

Donating to their favorite charities.

Supporting their church, their local pet shelter, the food bank, the homeless.

Taking their friends out for supper, and picking up the tab.

To NOT constantly have to check the bank balance to be able to do the "simple pleasures of life"!

AND, to be able to douse the fear of retirement. A huge fear and worry is having enough money to retire.
That's what 90% of our team is looking for.  
Help them with their vision.  And, create your own vision.
It's never about the money. It's always about what money can give and make possible!
Are you looking for a  new income opportunity?  Or, are you looking for a second income stream?
Work online or offline,  your choice!

Paid By: Direct Deposit Every Wednesday!

$0 Investment – FREE Training
The Road Map to YOUR vision of success …