When I first started Network Marketing,  I knew I absolutely loved it!  I KNOW Network Marketing works!
But,  too often than I care to admit, I struggled in a series of network marketing companies. (I even tried several affiliate marketing companies.)
I did every thing my Team Coach told me to. I always tried to duplicate!  BUT….

Here's what's NOT working now… ( there are man more)
✔️ I made my list of 100 people.  And, never again 🙂  People were starting to run from me.  Now, in all fairness,  there are those who still do this, and are very successful at it.  Me, not so much, I prefer the power of Social Media, especially Linkedin!
✔️ I did home parties.
✔️ I went to weekly team meetings.
✔️ I showed the plan.
✔️ I did 3-way calls.
✔️ And many more that aren't working today!
And yes,  with all this hard work, I did recruit people! But most were not interested at all to  duplicate what I was doing.

Does This Sound Familiar?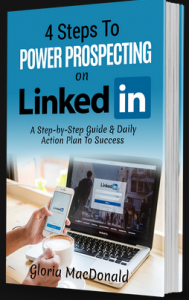 I did finally find my "permanent" Network Marketing Business, CTFO the new CBD exploding business. 
I am so thrilled I found Gloria MacDonald's training on Linkedin!  Why?
Because  it's revolutionized the way I prospect and recruit 🙂
Check out  this FREE report,  4 Steps To Power Prospect On Linkedin