If you want to succeed in attraction marketing...  you have to be attractive in character …  and it has to show in your speech, your writing.  And, in what you have to offer.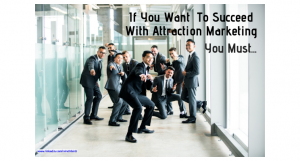 You Really Do Have To Brand…YOU!
Not your company, but YOU.  People join people, and only then will they like their companies, their opportunities… 
People are looking for leaders, someone  they feel comfortable with, someone they can trust. That's why you have to brand you.  You are the one, you are the Rock Star!
In Marketing, It's All About Branding You!
That is why you want to BRAND YOU, and NOT your MLM / Networking company…
✔️ Companies can come and they can go.  You can  be here to stay!
✔️ Branding you as you is NOT related  to how wealthy you are.  It's related to how "attractive" you  are in character. How people can relate to you as a leader.  It's not about $$$
✔️ And as I said at the beginning,  attraction marketing has to show through in your emails, your articles  your posts…  even your lead magnets.
And who can show you better than Gloria herself.   I have so grown to respect Gloria. To follow her.  She IS a great example of attraction marketing, and has created a … 30 Day Killer Email / Writing Course.
NO MORE "I'm Terrible At Writing" <— Is This Phrase Killing Your Sales?
The ROCK STAR Lead Magnet Formula:
5 Simple Steps to Creating Your Own Prospect Generating Machine