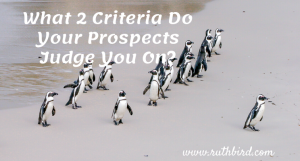 Your prospects will judge you on these 2 criteria…
Can I trust this person?' and

Can I respect this person?'
I believe a sale is NOT the exchange of money. A sale is the clear and informed "yes" or "no" decision that can only be made after effective communication has occurred between you and your prospect.
It's not ALL just about getting money!
1. Practice ACTIVE listening versus PASSIVE listening. This means when you're in a conversation, listen in a way that you can repeat back what they just said.
2. Validate what your prospect is saying. So often we minimize or dismiss someone's concerns by moving on to our own thoughts.
Instead, practice asking questions so you can uncover not only what they are saying, you can also get to the underlying reason of WHY they are saying it.
This type of response will let others know you heard them and give them an opportunity to clarify if there was a misunderstanding.
3. Be genuine in your offer to your prospects. Contrary to what your upline or your leaders may tell you – Not everyone is your prospect!
When you have done steps #1 and #2, your prospect will feel heard.
***  They will trust you because they will feel heard.
***  And they will respect what you have to say.
If you found these ideas helpful, trust me, Debbie gives TONS more amazing information in here.
Personally, I can't recommend this highly enough to anyone who wants to close more sales and really feel like you're coming from a place of authenticity and integrity."
I have also heard Debbie on Gloria's calls, and I couldn't agree more…